Last week, we had our first of six Summer Leadership Camps of the 2017 season, thanks to our sponsors! Our Nueces Delta Adventure Camp was a total success! We did a lot of really cool things and made new friends along the way. Our motto is "Opening Minds and Expanding Horizons", which means on any given adventure, there is bound to be growth; this camp was no different. They learned teambuilding, leadership, problem-solving, and so many other skills that we know that having this experience has changed our campers for the better.
On Sunday, campers and parents arrived at noon so we could get to know our team for this week long adventure! After going over what to expect for the week, rules and expectations, parents and campers said their goodbyes. Brian and myself (Micaela), wanted to get to know our campers better so we played teambuilding games and then proceeded to set up camp. After our tents were beautifully placed and secured and all our personal belongings inside, we got started on dinner. We ate so much pasta all we could do afterwards was enjoy a nice campfire and some s'mores.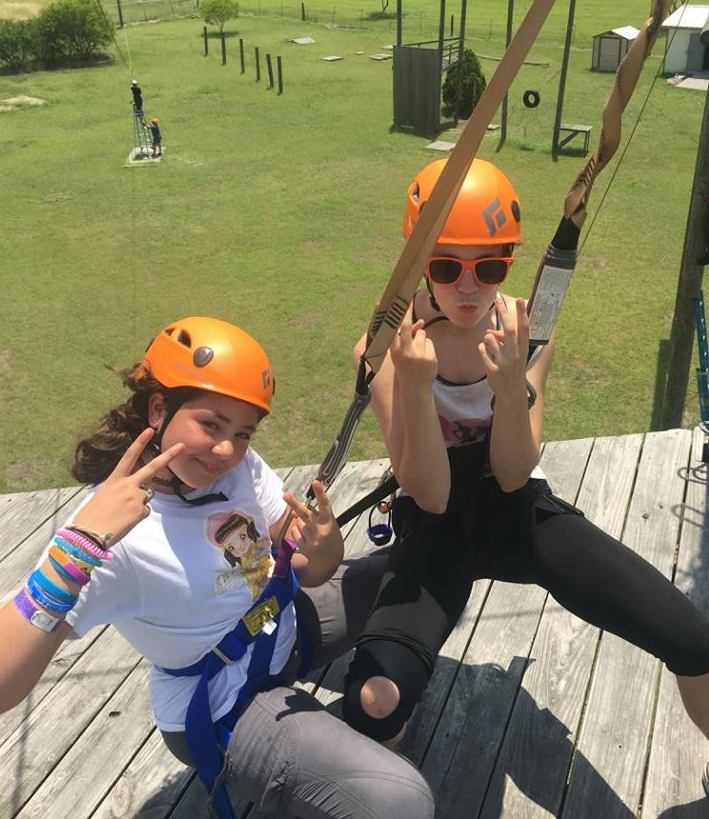 Day 2: Ropes Course
We rose bright and early on Monday morning to get ready for our ropes course day. It's important to build trust and communication when embarking on an adventure. We started with low elements: we traveled on the Texas Skis, balance on a log while trading places with each other, and played human skeeball! As you can imagine, we worked up a appetite with all that playing so we stopped for a lunch break. Once we regained our energy, we harnessed up to climb the two line bridge, zip line and the rock wall. Our team meshed like never before; pushing themselves outside their comfort zone and encouraging each other! When we got back to camp we played a game called werewolves and had dinner! Afterwards we journalled and reflected on our day, the new experiences we had, and what we were looking forward to the next day!
Day 3: SCUBA/Mustang Island State Park
Tuesday came quickly and we hopped out of bed, ate breakfast, and headed to SCUBA at the Aransas Pass Aquatic Center! After a video/equipment tutorial, the kiddos got in the pool to try out the SCUBA gear with James Gourley (a fantastic board member)! They quickly got the hang of it and were down in the deep end of the pool in no time. Some of the kids even got to play with an underwater scooter (see picture to the right). Around noon they got out and dried off and thanked our SCUBA instructor then got back in the van bound for Mustang Island State Park to enjoy the beach. It was a blast playing in the waves and the sand! We even made friends with a beach rat! We headed back to camp for dinner around 4:30 and then after some journal time, got some much deserved sleep.
On Wednesday, we set out to kayak down the Nueces River. We went over the equipment, safety rules and set off on our adventure. There were lots of wildlife along the way like jumping fish, hawks, pelicans, cranes and even an owl! We eventually came to a spot that was good for resting point, so we stopped for lunch. Afterwards, we went for a swim before heading back. On our way back to the boat launch, our competitive sides emerged, thus a game of kayak basketball ensued! I think we may have had a few future kayak basketball professionals in our midst because things got real. It was lots of fun but by the time we got back to camp we were all ready to relax and enjoy dinner. After dinner, we had more journal time and then we hit the hay!
Day 5: CPR & First Aid Training
Thursday morning we slowed down our pace a bit. We had been constantly busy all week and we thought that the kids deserved to sleep in and relax. After we got up we ate, played games, and then headed to Mr. James Gourley's for some CPR and first aid training. The kids enjoyed learning a new skill that we all agreed was very useful. We laughed a lot at the silly moments that arose in the process! The campers all passed their certification test and we traveled back to camp for our last dinner and journal time together. Things may have gotten a little cheesy and emotional because we had a fantastic week together and we weren't quite ready for it to be over.
Friday morning was all business! We packed up camp and worked on a few skits for graduation before the parents arrived. Once parents arrived they put on a great performance and ended it with the "Campfire Song Song" made popular by SpongeBob SquarePants of course. Then, Brian and I handed out all the certifications and awards the campers had earned over the course of camp and we all enjoyed an amazing lunch of hot dogs and hamburgers grilled by our one and only Executive Director, Becky! It was a great day but a sad one too! We had a such a great week together and we didn't want it to end. But nonetheless, good-byes were said, hugs were given and the ultimate question was asked "I'll see you at camp again, right?" What a great way to end our first of six, Summer Leadership Camps!