When you first think of backpacking, you may have an image of a casual stroll through wilderness with your belongings following close behind. This idealesque vision is far from reality as you will find out below. The day began with loading up bright and early then traveling 7 hours to the Sabine National Forrest. After our arrival we set up base camp discussed the details of our upcoming hike, ate dinner and enjoyed a nice fire before getting an important night's sleep.
Backpacking Camp: Day 1 on the Trail

We woke up at 7am to prepare for our first day of hiking "The Trail Between the Lakes". This being our longest hiking day we spent the morning organizing and distributing the contents of our backpacks, this included our cooking materials, food, rain gear, navigation tools, tents and more! You would be surprised how fast the weight adds up! We began the hike with high energy and a positive mindset. After hiking a few miles we ate lunch and continued our journey. After reaching our first campsite we quickly set up tents in preparation for our first round of rain. We cheered and clapped as our support staff Edward joined us for dinner and the rain approached. Edward supplied us with water and boosted our morals before leaving
"Youth Odyssey has taught me about hard work and seeing the fruit of that hard work"11 year old female youth
Backpacking Camp: Day 2 on the Trail
Then as the second day arrived we packed up camp, ate breakfast (oatmeal) and marched back onto the trail. If you are new to backpacking you will see the trails are marked with small signs or arrows to help keep you on track, but pay close attention you can easily miss one and find yourself off trail! As we continued the trail a few miles in, the sky darkened as more rain approached. This time a downpour. Our excitement for the cool, refreshing rain was great, although we prepared for rain, about 2 hours in things got severe. We had to make an emergency call to Edward to retrieve us early to dry out as our boots and bodies were soaked to the core. We continued our trail meals including rice, beef jerky, ramen, sandwiches and more!
Backpacking Camp: Day 3 on the Trail
And after a rough second day, our final day started bright and sunny. We prepared for our final hike through the forest and off we went. Throughout the last day we experienced hundreds of spiders after yesterday's rain but that did not stop us. On top of all of that we discovered many mushrooms and even had a large tree fall within feet of us! Needless to say it was a crazy day, but we made it! The moment we worked so hard for finally arrived, the completion of backpacking and now we can relax. Back to base camp we went, and after unpacking and cleaning our bags it was time for a swim in the lake. With our bodies sore and tired, it was perfect.
Back at Base camp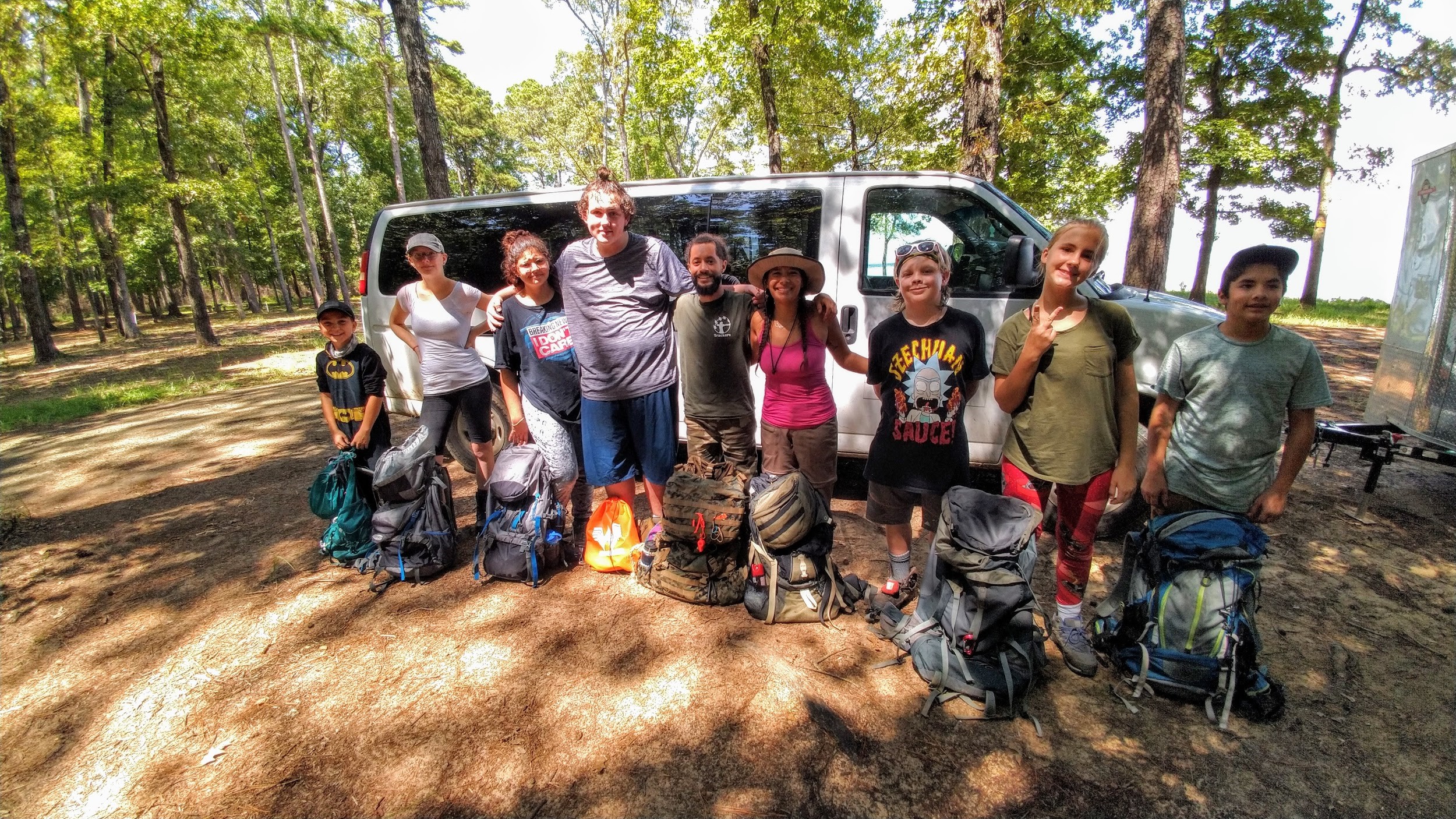 So our last day was a free day. We swam, went fishing, played games, told stories and made a feast out of our leftover foods. Despite the challenge we learned about ourselves and each other. Limits of the body, proper navigation, off grid cooking, fire skills and many other lessons that will continue to shape us as we all continue our journey. Youth Odyssey has many great opportunities for youth to share moments like these year around. But visiting our website or Facebook page gives folks the best information on what we are doing.
"Youth Odyssey has helped me learn how to set up a tent, start campfires, roast marshmallows, and helping others. It has also given me the strength and courage to make it through a tough hike."11 year old female youth