On the Road to Wichita Mountains!
What an adventure! We went to a brand new location this Spring Break for our Annual Youth Leadership Program Trip. The Wichita Mountains Wildlife Refuge in Oklahoma! There was an abundance of activities and attractions for us to do during the week. Waterfalls, mountains, prairie dog towns, historic buildings, and much more! We were all packed and ready to explore Oklahoma for the first time in Youth Odyssey history!
Day One
Day one was one foggy day! We started the week off on a big note though by conquering the longest trail at the refuge! The trail was 8 miles long! As we hiked the trail we were able to see all the different types of terrain from rolling hills, creeks, rivers, forests, wide open fields, and of course mountains in the background. The youth leaders definitely earned bragging rights after this adventure! At the conclusion of the hike we went back to camp to prepare our victory meal! Chicken stir fry! Yummy!
Day Two
Day two was educational day, and super windy! Our Wichita Wildlife Refuge point person, Nick Plata, gave us an education demo about the Refuge. Everyone learned about all the wildlife and history of the park. Some of the animals we saw at the park were longhorn, buffalo, turkeys', and prairie dogs. In the night we sometimes could hear elk and coyotes. Our day concluded with exploring the historic Holy City, and an epic game of capture the flag at our campground! We may or may not have had the whole campground to ourselves.
Day Three
Day three marked the beginning of amazing weather for the remainder of the week. Thus, it was time to take ourselves to higher ground! What better place to go than an epic waterfall! Our first stop of the day, Post Oak Falls! We also may have hiked to the very top because we like to take cool photos. Also it was an amazing spot to take our lunch. Our next stop was the narrows trails, which is where we came just several yards from a buffalo! Very cool moment! After an eventful day of hiking, we ended the day early to have some chill time at base camp.
Without Youth Odyssey and the Youth Leadership Program I would not be the person I am today. I used to be very secluded, shy, and reserved. Now I have more friends, and enjoy to be around other people more. It has truly given me more purpose and self-confidence.13 year old Youth Leader
Day Four
Day four, was our last full day at the Refuge. With every last day, it has to be one to remember. So what did we do on our last day you ask? We hiked Elk Mountain! This 2,250 ft mountain had an amazing view from the top (also a great lunch stop)! For some of us, it was the highest (elevation) we had ever been at. More importantly, it was an experience we all were able to share together for the first time. After our last hiking adventure it was time for tradition,  buy some souvenirs! We visited the Visitor Center. Which by the way is super cool! Many of us purchased some stickers, shirts, explored a nature museum, and watched a 15 minute clip in the theater. All that was missing was some popcorn!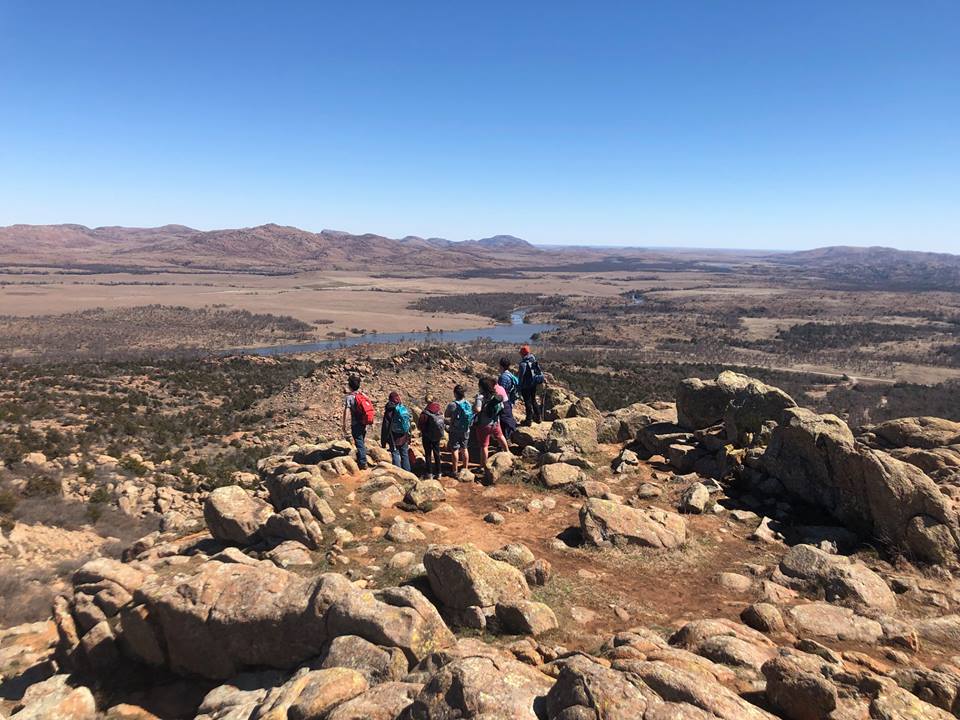 Heading Home!
Youth Odyssey's first time in Oklahoma was a great success! Not only was it our first time in Oklahoma, but many of us saw and experienced new things. And for some, this was their first Spring Break Trip with us. We love firsts! The ride home was bitter sweet. All of us were having a great time, and didn't want to leave to go home quite yet. However, 6 days of near primitive camping, we were excited to be home. Many memories were made this year, and we are super excited for the next big adventure!