Going Camping!
This Fall Youth Odyssey went camping at Garner and McKinney Falls State Parks. We had an awesome time on our trips, and were able to do a variety of fun activities. Both parks are cool in their own way, and depending on what your focus will be will determine which campground is best for you!
McKinney Falls
McKinney Falls State Park is an action packed park with swimming, bouldering, hiking, camping, and a 500 year old cypress tree! We love this place during hot weather months because we can cool down at the falls. When the weather is more temperate, bouldering is another one of our favorite activities here. However, bouldering is not fun when it's hot because our hands don't like the hot rock!
Bouldering is a great way to practice our rock climbing technique, and to get a feel for the real thing. McKinney Falls has great routes already labeled and marked making it easier to determine what routes to take for certain skills levels. Our kids practiced their technique on the real rock walls here, and we are excited to see how their skills transfer to our rock wall at our ropes course! With all that said, we highly suggest bringing safety gear such as: helmets, rock climbing shoes, and bouldering mats. A fall without safety gear would not be a pleasant experience here at these rocks!
Garner
When we want an adventurous hike, Garner is the place to be. Garner has great hiking trails, but they can be steep so prepare yourselves! It is a hot spot for hiking, swimming, spelunking, camping, and cool views. The Frio River is also located right on the edge of the park too, and yes..it is cold! This river is a great place to take our paddleboard and kayaks because it's reasonably calm and wide.
Garner has amazing views throughout the hiking trails, but getting to the different spots can require a steep climb. In wet muddy conditions we have to be a bit more cautious on our trek. When we go camping at Garner, we also always pack flashlights or headlamps. Along the trails we run into awesome caves, and we like to be prepared. There are several caves along the trails, and we always want to be prepared to go exploring..watch your head!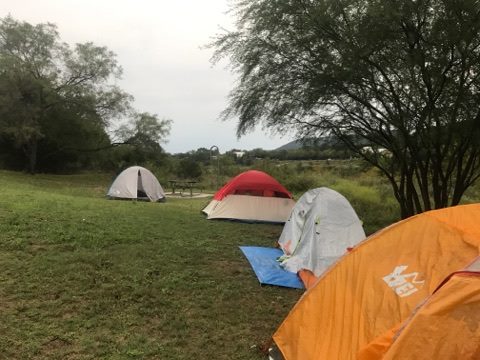 Don't Forget Your Tent!
The great thing about Texas is there are many different State Parks to camping at, which allows Youth Odyssey the ability to show the youth new things. We are all about expanding minds and broadening horizons, and parks like McKinney Falls and Garner are just the places for that! We visit these parks just about every year, and it is amazing to witness how these places positively impact our youth.